Remembering Bobby Hull
January 30, 2023
Today, I learned that Jets legend and honored member of the WHA Hall of Fame, Bobby Hull, passed away at the age of 84.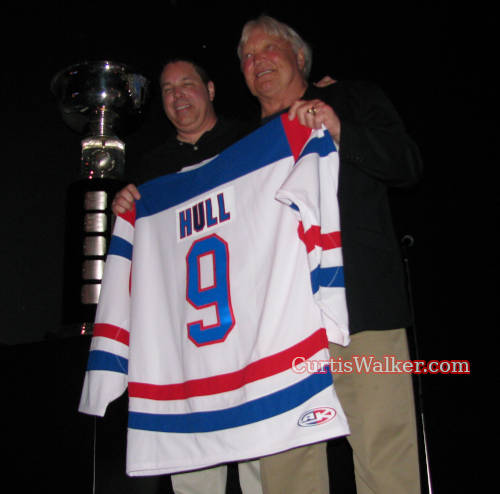 Tim Gassen presents Bobby Hull with his WHA Hall of Fame jersey in August 2010.
Away from the rink, he was not an all-star human being. A man who once sat out a game in protest over the increasing level of violence in pro hockey, he had a long and well-documented history of spousal abuse. I met him in August 2010 and I can't exactly describe it as a highlight of my life. Rarely, if ever, separated from an alcoholic beverage, he remains the most boorish man I've ever met.
On the ice, however, his feats were legendary. After starring for many years in another major league, he signed with the Jets in 1972 and set the WHA on fire, leading the Jets to two AVCO Cup championships and to the finals on two other occasions. When talking about the greatest players of all time, he cannot help but rank in the top five. Perhaps the top three. He was that dominant.
But what he did for his fellow players might even overshadow his accomplishments on the ice. When he signed that mega-contract with the Jets at the corner of Portage and Main, he gave the upstart WHA the credibility it needed and broke the NHL's monopoly on pro hockey. Long treated like dirt, players finally had a choice as to where they wanted to work. The chains binding them to their employer for life had at last been broken. As a result, salaries of players in both leagues skyrocketed. It was no wonder that when Stan Mikita, his former teammate in Chicago, heard Hull had signed with the Jets, he turned and genuflected toward Winnipeg. That impact continues to this day. Every player who takes free agency for granted has one man to thank: Bobby Hull.
Yet Hull didn't just cash his million dollar check, score his 50 goals and go home. He worked as hard to sell the product off the ice as he did on the ice. At home and on the road. He was the best public-relations man the Jets and the WHA could possibly have imagined. He was always in front of a camera. Or doing a charitable appearance. Or signing autographs. No youngster who wanted one was turned away. And when the Jets ran into financial trouble in the spring of 1978, Hull joined a group of investors led by Michael Gobuty and bought the team to keep it in Winnipeg.
There is no way the WHA would have survived and thrived for seven years if it were not for him. Any kind of merger with the NHL would have been unthinkable. To say the least, he earned every penny of his salary and then some.
Even though the Jets left Winnipeg in 1996, Hull's impact on hockey in the city is still felt today. The man most responsible for the NHL team playing there is not Mark Chipman. It is Bobby Hull. There is no way little Winnipeg would ever have registered on the NHL's radar in 1979 or in 2011 were it not for his leap of faith to sign with an upstart rival league.
And for that, Winnipeg hockey fans past and present will be forever in his debt.