Tales from the Road – Singing in the Bathroom, Blubber Queens and More
June 10, 2019
Observations from Sunday's bus-train ride to and from the universe's center:
1. History was made when no one got on or off at the Nash and Barton stop on the way in. Not that it's that popular, but someone always gets on or off there.
2. Spotted on Woodward Avenue in Hamilton was a sign that read "Is your wife hot? AC tuneup for $9.99."
3. Rumor has it that the Tim Hortons at the Burlington GO station will be reopening. Why it ever closed down after it opened for the first time is a question I'm sure I'm not the only one asking.
4. In the washroom at Union Station was a guy singing something about magic while doing his business at the urinal. Perhaps he's having prostate trouble, in which case, being able to take a leak without difficulty would qualify as magical.
5. Along the Waterfront Trail in Toronto filled with cyclists and pedestrians were also those showing off for the overflow weekend crowd. One in particular who stood out was a scantily clad joggerette who was displaying far too much of her surgically enlarged wares. Just because it's legal to bare all in Ontario doesn't mean you have to do it.
6. Forget freedom for Hungary, I'll just settle for freedom for Canada: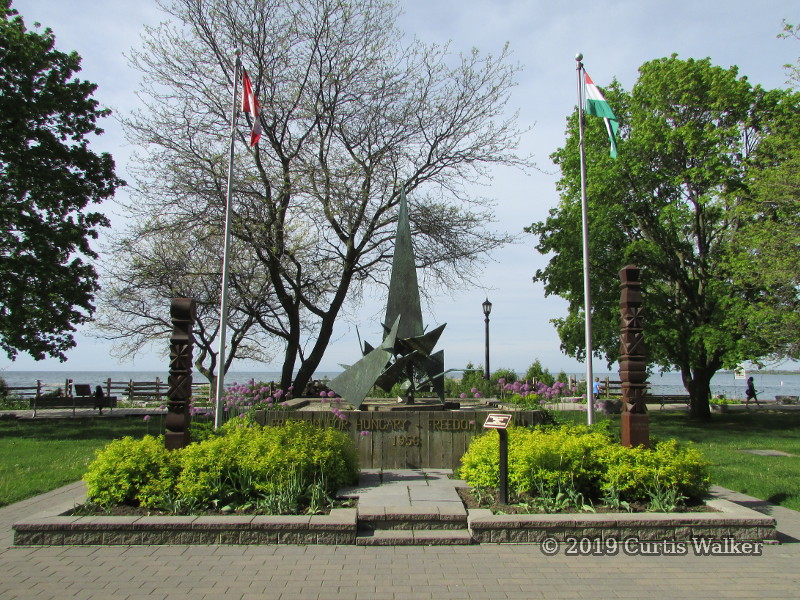 7. Yoga on a paddleboard: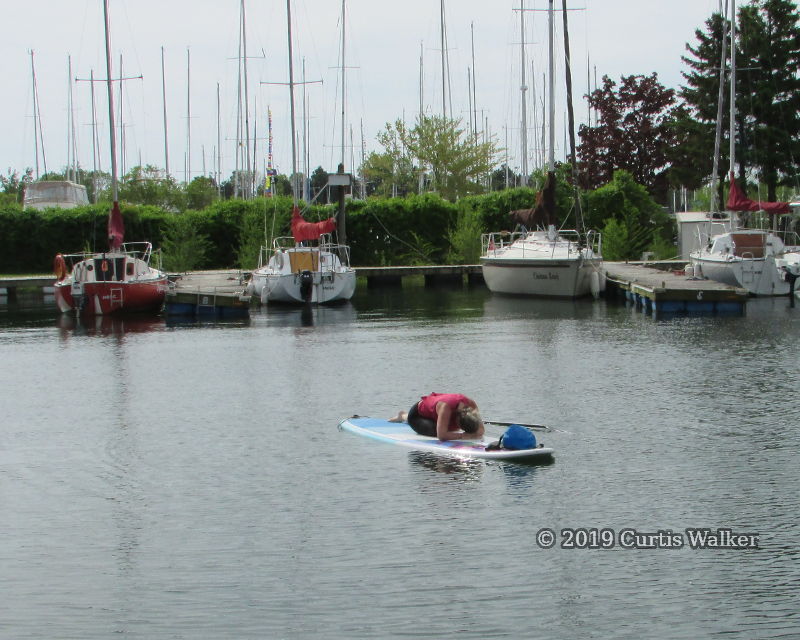 8. Seated in the Burlington GO station on my return trip were a pair of blubber queens who were also showing off. One was displaying even more of her wares than the woman in Toronto, wares that were greatly enlarged by too many unnecessary trips to the Dairy Queen. She was also dressed in black fishnet stockings and a short jean skirt that didn't come close to covering a backside that could have blocked out the sun. The other's upper body was covered in a flimsy see-through blouse under which was a skimpy black bra. All in all, I was lucky to escape serious retinal damage.
9. Seated on the curb waiting for the #12 bus was a guy who kept dipping the large slice of pizza he was eating into a small container of creamy white guck. Yecch.
10. I remain grateful that GO Transit runs an express bus to the Falls in summer months to siphon off the riff-raff.
11. Boarding at Nash and Barton was a woman named Aggie, who I suspect wasn't quite playing with a full deck. After taking her seat, she kept banging on the glass and waving at the two friends who came to see her off, one of who was named "Phyllish." Looking the other way, either intentionally or unintentionally, as Aggie went on like a child apparently qualified Phyllish as a "schtinker" and made Aggie accuse Phyllish's husband of being full of goose manure. Then, soon after taking off, Aggie helped herself to some of the smelly juice-like substance she brought with her in defiance of Metrolinx's policy against eating or drinking on GO buses and trains. A policy that many violate and aren't even aware exists.
12. At Beamsville, one guy got on and asked if the bus displaying a big "NIAGARA FALLS" sign in front was headed to Burlington. Having patience with idiots has got to be the most important qualification for drivers.