Riding the Rails to Toronto
September 29, 2019
Highlights from yesterday's train trip to and from the universe's center: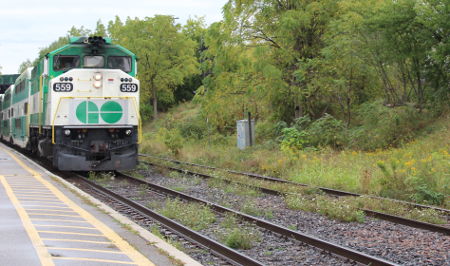 1. With the addition of year-round weekend/holiday train service directly from St. Catharines, I took advantage of the opportunity to take the train in both directions for the first time. I especially appreciated not having to deal with the traffic on the QEW as well as the riff-raff on the Niagara-bound bus coming back, though I'm not sure I'll do this all-train trip again any time soon until they add more trains. The first C.U.-bound train didn't get into Union until after 10:30 and the first Niagara-bound train didn't leave Union until after 4:00.
2. Fresh from his training at Metrolinx's Department of Redundancy Department, the CSA on our C.U.-bound train made sure to tell us that it was an express train to Toronto's Union Station and that it would stop only at Burlington, Oakville, Port Credit, Exhibition and Toronto's Union Station. There's no other Union Station in the network that I'm aware of.
3. The guy in front of me in line at Tim Hortons in Toronto's Union Station was busy on his phone surfing YouTube videos, texting one of his buddies and playing some game. Give it a rest.
4. Roywoods in the Union Station food court was flashing a message stating that the fact that 50% of Toronto's residents are not from Canada is always a good thing. Needless to say, this is not a place I'll be patronizing any time soon. And judging from how they weren't exactly having to beat customers off with a stick, I'm not the only one who feels the same way.
5. Also at the Union Station food court were a couple of guys feeling each other up before parting ways with a big wet kiss. Look, I don't give a flying rat's rear end what you do behind closed doors, but I don't need to see it. Get a room.
6. There were ads in Union Station from Elections Canada reminding voters to check or update your registration for the upcoming federal election. To that I would add, "but only if you're not voting stupidly."
7. I was greatly encouraged by the sight of many signs for the Conservative candidate in the heart of the riding once held by Olivia Chow, the widow of Jack Layton, Canada's answer to Kim Il-sung.
8. Scenes in Grange Park:
9. While snapping pictures in Grange Park, I noticed a young man having a very animated conversation with a tree. When that tree didn't answer back, he moved on and tried his luck with a smaller tree.
10. Free mattress:
11. Assorted "street art:"
12. I can live without this "finger puncture massage," thank you:
13. Scenes on Dundas Street in Chinatown:
14. Make yourself at home on the street. And don't bother taking out your garbage either.
15. In case you're having any problems with your "Sumsung" "moblie" device:
16. How do you like your fungus?
17. There were some stores in Chinatown Center with the prices listed only in Chinese. And we get lectured about being welcoming and inclusive.
18. Spotted in Eaton Center was someone wearing a T-shirt with the slogan "Rules: Make your own." Must be a Liberal. Nearby was a 50-year-old teenager with bright Smurf-blue hair wearing a hoodie with the slogan "Love Pink." Practice what you preach.
19. Also in Eaton Center was someone on the escalator shopping for high-heeled shoes on her phone. Once again, give it a rest.
20. A couple camped out on Yonge Street apparently had no money for bus fare to Montreal, but they did have plenty for smokes, makeup and lipstick.
21. The CSA on the return trip who failed to introduce herself will no doubt receive a formal reprimand from Metrolinx for the unconscionable faux pas.