The Magic of Welland
October 4, 2019
Highlights from today's adventurous two-wheeled trip to Welland: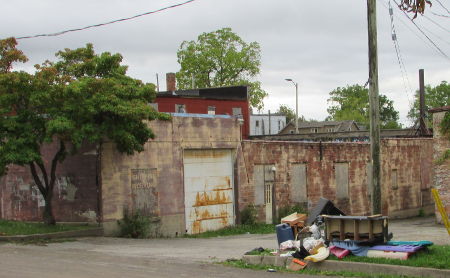 1. Free luggage . . .
2. I'm gathering dogs or, more appropriately, irresponsible dog owners must be quite a problem on East Main Street . . .
3. Off-color scenes from around the city:
4. The owners of that industrial mall with the orange sign out front, along with many others throughout the city, are failing the political IQ test. The low-income residents of Welland have been voting CUP (Communist Union Party) forever and, not surprisingly, they're still poor.
5. I don't know how the city got its name, but my guess is that it's derived from an ancient Cree word for unemployment.
6. I laughed when I saw a sign from a credit union offering advice with investments. Around there, a fully loaded Tim Hortons rewards card qualifies as an "investment."
7. Take a load off . . .
8. I've never seen so much traffic in the city before. Must have been the day the monthly ODSP or social assistance welfare payments were processed.
9. In addition to the traffic on the streets, the Tim Hortons on Lincoln Street was a bustling beehive of activity full of characters representative of the neighborhood. Included among them was a spaced-out forty-something whose parents might have been brother and sister before they got married and a bum surprisingly well-dressed by Welland standards with a straggly gray beard who had a suitcase in tow containing all his worldly possessions. He kept pacing up and down in the vestibule and tapping on the glass, stopping only to make the occasional trip inside to deposit something in the garbage can. Most often, he would just go directly to the receptacle, but once, he made a loop around the counter first. On his last garbage trip, he leaned over and cupped his ear down to hear if the can the clerk was emptying had anything to say to him.
10. Just prior that final garbage trip, a cyclist wearing a cap with several metal spikes, closely resembling the German Pickelhaube made famous during the Great War, handed Vestibule Bum a coffee and a bag with some treats inside before leaving on her bike that she left outside unlocked. This is not the Old Country, chapter 6,753.
11. It's bad enough not wearing a helmet, but Pickelhaube Cyclist's tribute to the Kaiser could be seriously life-threatening if she was ever thrown from her bike and landed on the crown of her head.
12. That Tim Hortons was also doubling as a senior center as large groups of older guys were at opposite ends of the restaurant, one group speaking Canadian, the other Quebecese.
13. In the washroom, there was a brown smudge on the edge of the urinal and it wasn't spilled coffee or leftovers from a chocolate donut. Someone was evidently unaware that Number Two should be done in the toilet.
14. Spotted in the parking lot was someone with a bumper sticker that read, "Welcome to Canada. Fit in or (expletive) off." Without the profanity, it's something I'd like to put on the back of my car if I had one.