Over the River LV
September 7, 2019
Highlights from Friday's trip to Buffalo, my 55th two-wheeled visit to the Great State of New York: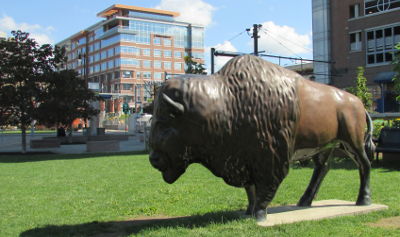 1. While hanging with the homies at the Portage Road Transportation Center, right in my line of sight was a young couple, the only two other Caucasians within a country mile, engaged in an intimate conversation while feeling each other up. As these two lovebirds were going at it in plain view, another guy nearby was puffing on a cigarette while enjoying the Breakfast of Champions. No, not Wheaties, but a Pepsi and a bag of Fritos. Then, just before my #40 Buffalo-bound bus pulled up, I listened as a woman seated on a bench was practically screaming at someone about how she got severely injured and blew the thousands she got on the settlement.
2. Dear Operator 4266: I realize that having sharp or uneven edges on your nails can be really annoying, but it would be better if you would not file them while driving. Especially while heading for the busy roundabout at John Daly Boulevard and the Robert Moses State Parkway Niagara Scenic Parkway. You had more than a 10-minute layover in Niagara Falls during which you could have taken care of those troublesome nails.
2a. In addition to Operator 4266, I'm starting to recognize other drivers from past trips. I do get around.
3. One of the passengers who boarded in Niagara Falls was wearing a uniform from the Hard Rock Cafe, which had the slogan "Love all. Serve all." emblazoned on it. How very liberal. How very nauseating.
4. Right by the front door was a sticker with the warning, "Caution – beware of opening doors." Duh.
5. Rather than load his bike on the rack and take it with him, a guy who boarded at Long Road on his way to work in Tonawanda instead locked his bike up to a pole right by the bus stop, turning it into an unofficial park-and-ride location. And for the record, his bike was still there on my return trip. This is not the Old Country, chapter 6,548.
6. When the screeching from someone's phone got too loud, the driver yelled, "Better turn down your cell phone!" And the passenger complied. This is not the Old Country, chapter 6,549.
7. One woman on the bus spent nearly half of the hour-long ride desperately trying to get the operator at the other end of the line to change the destination of a cab trip she had booked for Monday. Over and over again, she kept repeating her clear instructions to no avail, eventually giving up with an "I'll have to call you back." Hopefully, she'll have better luck with another operator.
8. More urban decay in Buffalo:
9. Scenes in Larkin Square:
10. This diner reminded me of Mickey's Diner in downtown Saint Paul, a place I passed by during one of my many trips to the Twin Cities:
11. While stopping for a picture on Seneca Street, I spotted this truck from Bison Transport. As I've said before, the SPRM does keep following me around.
12. I stopped at Tops Alumni Plaza outside Marine Midland Arena HSBC Arena First Niagara Center KeyBank Center to snap some shots of the plaques honoring ex-Jets including Dale Hawerchuk, who my best wishes go out to after he announced he would be taking a leave of absence from his duties as the coach of the Barrie Colts to deal with some health issues.
12a. The astute Jets fan will be appalled at having Michael Peca's plaque right next to Hawerchuk's. If you recall, it was Peca who took out Teemu Selanne with a vicious blindside hit in a 1995 game that touched off one of the ugliest bloodbaths in recent memory.
13. Scenes at Canalside:
14. A cute little sign:
15. Scenes inside the Sabres-themed Tim Hortons a block from the Marine Midland Arena HSBC Arena First Niagara Center KeyBank Center and across the street from the site of the former Aud, where Horton played as a Sabre:
16. Not all readers may be aware that, during my four years in the upper deck as a Jets season ticket holder, the guy who sat next to me was a big Buffalo Sabres fan who used to talk about the Aud and how Gilbert Perreault would cross the river to his home in Fort Erie because he didn't want to live in Buffalo. Little could I have imagined that, more than 30 years later, I would be going for bike rides in the area.
17. At the Metropolitan Transportation Center, the driver of the northbound #40 bus told a guy who was boarding with a bag of smelly Doritos that there was no eating on the bus, but that didn't stop him once he took his seat. At least the driver tried.
18. Boarding at Hertel Avenue was a guy who was a spitting image of a late ex-colleague of mine from back in the Old Country.
19. Rather than use the wide parking lane on a very busy Route 266 near the Tonawanda GM plant, or use the nearby Shoreline Trail for that matter, a northbound cyclist opted to take his life in his hands and hug the white line, forcing cars to pass him. Just like it is with joggers, sometimes it's only about getting noticed.
20. Passing the bus on the Robert Moses State Parkway Niagara Scenic Parkway was a van from Aries Transportation. On the side of the van was the company slogan, "Committed to compassionate service." Once again, Mayor Sendzik has a case for trademark infringement.
21. Some Asian travelers waiting at the Niagara Falls (Canada) bus terminal were sharing a can of Spam, eating the manufactured meat with chopsticks that they were also sharing. Yum, yum.
22. I wasn't terribly surprised to see that the City of Niagara Falls (Canada) still hasn't fixed the filter at the water fountain in the bus terminal. For those keeping score, it's been flashing red ever since February.