The Barton Street Experience
September 2, 2019
Highlights from my recent day trip to Hamilton:

1. Seagull smorgasbord at the Fairview Mall bus stop:
2. An older guy with a gym bag full of empty drink cans slung over his shoulder uncovered some buried treasure when he spotted an abandoned can in a cart at the Fairview Mall bus stop. After emptying the contents, he proudly stuck his prize into his bag and must have thought it was his lucky day.
3. A big thumbs-down to the St. Catharines Transit driver who, knowing the big double-decker GO bus was behind her, opted to pull up almost a full bus length behind her colleague already at the stop rather than give the GO driver more room, leaving the GO driver to squeeze in behind her into the minimal amount of space left at the stop.
4. Even though the Presto/ticket machine at the Fairview Mall stop is now functional, few chose to use it, while others seemingly couldn't figure out this not-very-complicated piece of machinery, thus causing more than a 10-minute delay when the bus came. A mother with her 13-year-old son bound for the CNE was responsible for nearly half of that time as she tied up the driver with a litany of questions such as how much the fare would be if the kid was younger, whether it's cheaper to buy the return fare right there and how much cheaper it would be if she was a senior. All the while, interjecting comments about how expensive it was. It was almost as if she was trying to bargain with the driver, but the fare's not negotiable. Pony up or get off the bus.
5. Spotted while waiting for the Barton bus at Stoney Creek was a guy wearing a T-shirt with the slogan "Sleeping in for the win." Whatever.
6. Perhaps the zaniest character on the Barton bus was someone wearing Smurf-blue sweatpants along with hair dyed mostly blond except for a chunk on top which matched the color of the sweatpants. I was also unable to tell this person's gender.
7. A couple of dudes who were standing a few steps away from the curb at the Melvin and Parkdale stop showed no apparent interest in the approaching bus until the driver passed them by. Memo to potential bus passengers: Drivers are not mind readers. If you want to catch the bus, be at the curb when the bus approaches.
8. There was an ad in a bus shelter with the slogan, "When we fall asleep, where do we go?" Don't ask me what that one was about.
9. Pre-sorted garbage for your convenience: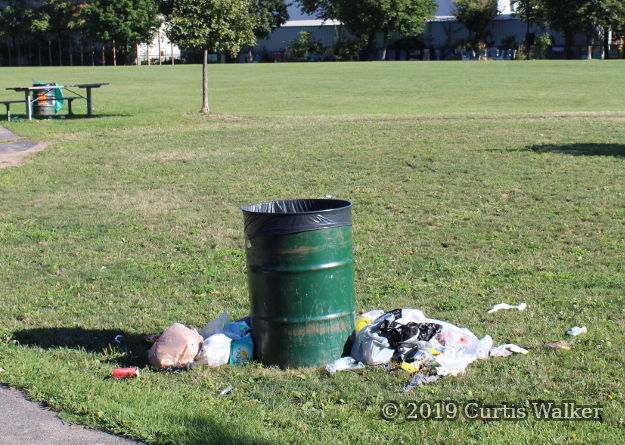 10. I think Mayor Sendzik might have a case for trademark infringement: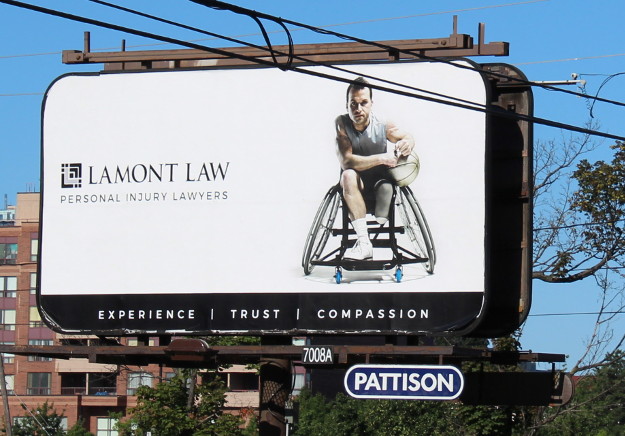 11. Try to limit yourself to just one of these item . . .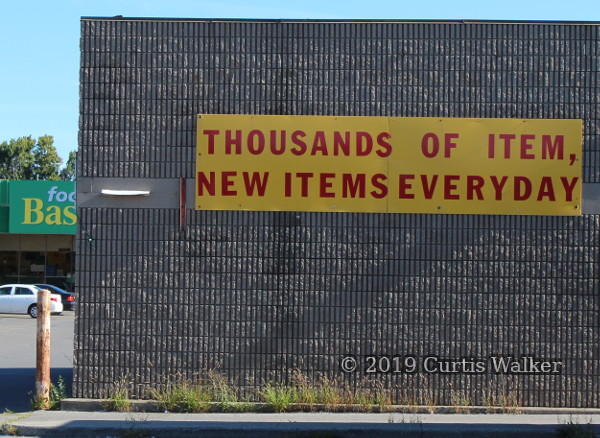 12. I couldn't help but notice the irony of this ad stating that graffiti is a crime being covered in graffiti: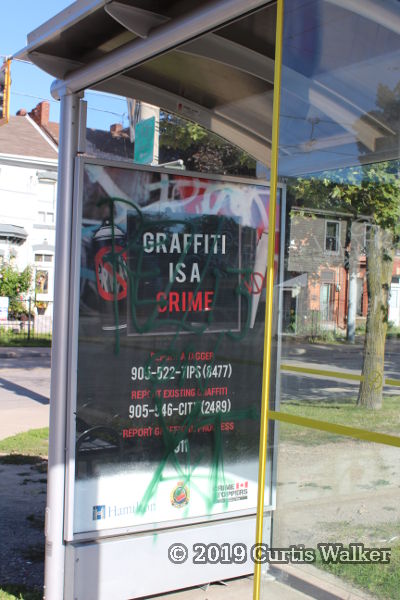 12a. Is graffiti really worth a 911 call?
13. Presented without comment . . .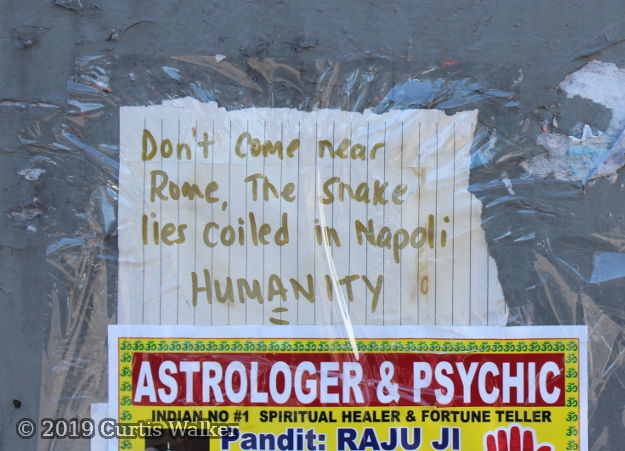 14. Plywood Draperies at your service . . .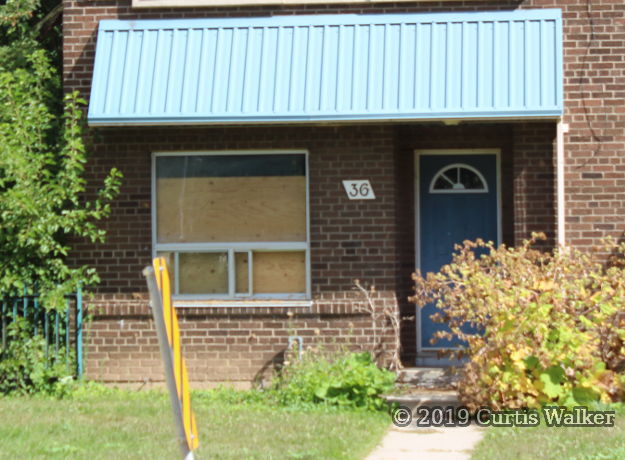 15. So says someone who's probably on welfare. Just because you're failing, doesn't mean it's the system's fault.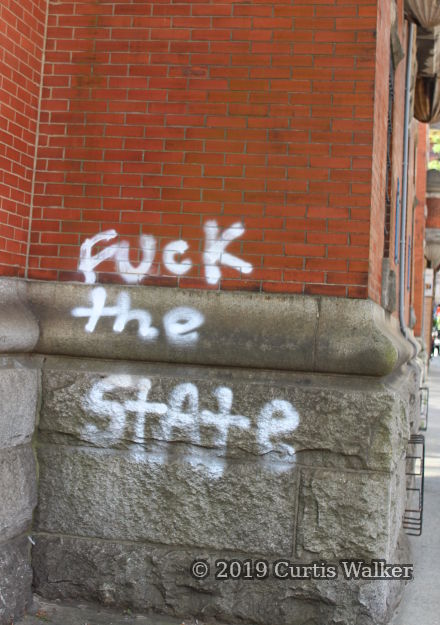 16. New concrete seating on James Street. Must be awfully comfortable. Or not.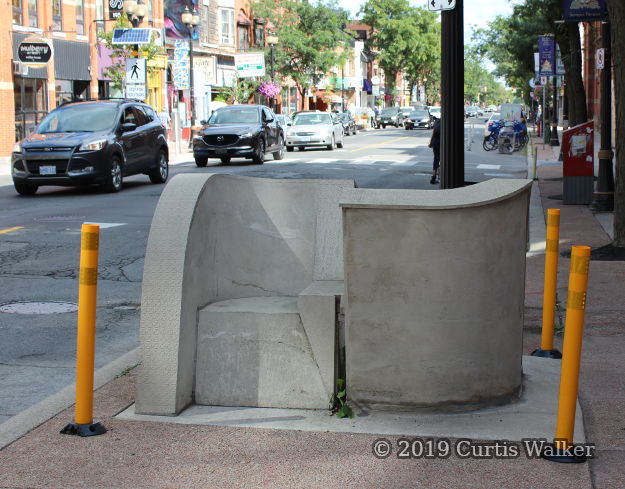 17. Take a "wholistic" approach to health care . . .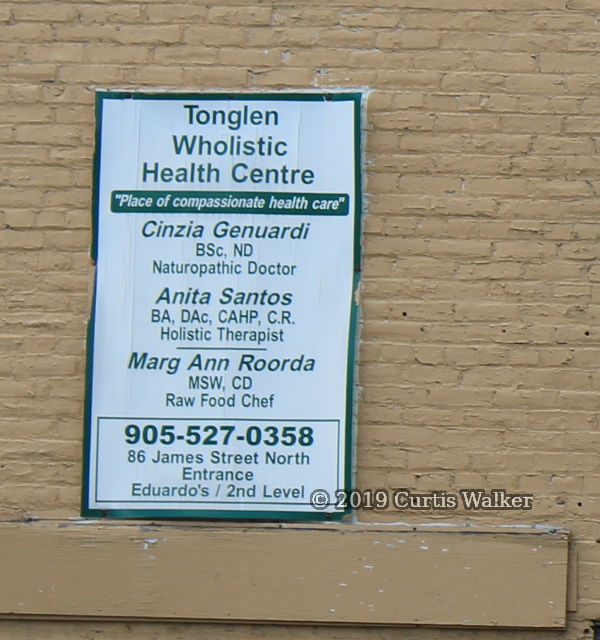 18. In a familiar storyline, sitting outside the Hamilton Farmers' Market was a guy in a wheelchair asking passers-by for spare change in between puffs of his cigarette. If you've got money for smokes . . .
19. Spotted in Jackson Square was a guy wearing a black Ontario NDP T-shirt. They must have run out of "I am an Idiot" shirts, so he opted for the second-best choice instead.
20. Speaking of idiots, about a dozen or so people were rallying at City Hall in favor of fascism. It takes all kinds.
21. There's a "Growth Management" department in Hamilton? If that doesn't scream excessive bureaucracy, I don't know what does, but in any event, there isn't exactly a whole lot of growth to manage there.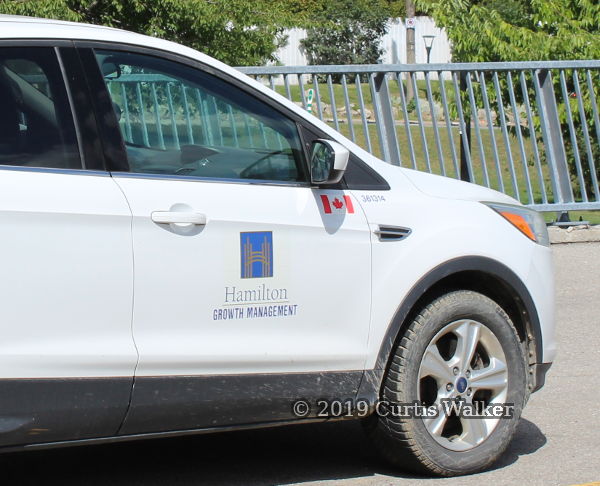 22. On the return trip, someone on the Barton bus used his finger to scoop up some leftover food off his shirt. From the look on his face after eating it, he thought it tasted mighty good. Barton Street cuisine at it's finest.
23. A fat guy involved in a rather profane conversation with someone on the phone at the Nash and Barton stop later took a selfie of himself on the bus, then called his buddy back and asked him to pick up 12 tall boy Molson Canadians.
24. Dear GO driver: Thank you for your efforts in trying to beat the holiday traffic on the QEW by using South Service Road. But next time, pay attention to the sign at Vineland which clearly states that there's no further access to QEW Niagara as the road curves to the south around Jordan Harbor. Better yet, just look at the big body of water in front of you. You know, the one you've undoubtedly been across numerous times on the QEW. Then you wouldn't have found yourself in such a mess that you had to call dispatch for directions on how to get back to Victoria Avenue.
25. How much for the inefficient diesel gas?