On the Road – Hot Dogs, Halloween Displays, Whirlpool Trail and More
October 15, 2021
Highlights from yesterday's journey to and from Niagara Falls:
1. En route, I spotted a discarded bag of groceries on the shoulder that included a package of hot dogs. I can certainly understand tossing the hot dogs. Personally, I wouldn't touch that "mystery meat" with a ten-foot pole. But at least toss them in a garbage bin. There are certainly plenty of them around.
2. It had been six weeks since I had last been to the Falls. During that time, they had put a new coat of asphalt on Taylor Road from the bridge over the tracks up the escarpment to Mountain Road, where they continued resurfacing up to and beyond Garner Road. Such a project in the Old Country would have taken an entire summer.
2a. As always, I appreciate how much more proactive they are about infrastructure in this part of the world, but the section of road in question wasn't bad and hardly needed work. If the Region was looking to spend our money on road renewal, Niagara Street here in St. Catharines remains in much more urgent need.
3. Along Church's Lane was a house with a giant spider on the front lawn as the centerpiece of yet another extravagant and nauseating Halloween display. Tell me again why Halloween is a thing.
4. For the first time, I walked down to the Whirlpool Gorge using the trail across from the golf course. It's very scenic at this time of year as the leaves are starting to turn color, and the trail is a lot less hazardous and rocky than the one at the Niagara Glen Nature Center. But if you're planning a similar trip, as they say, make sure you eat your Wheaties, because the climb up is a little rough. Even for someone like me who is in good shape, I was completely worn out afterward.
5. Still pictures and video from the trail: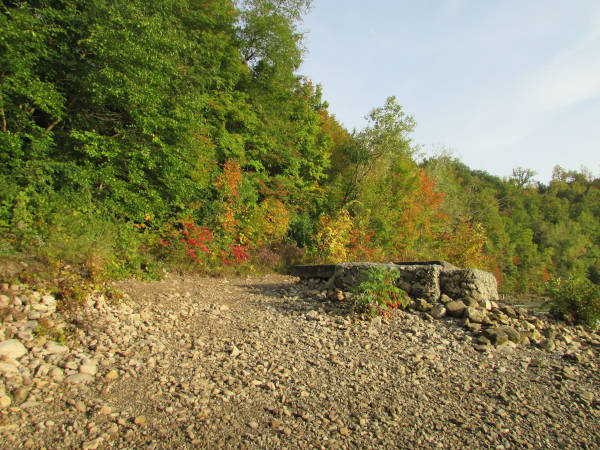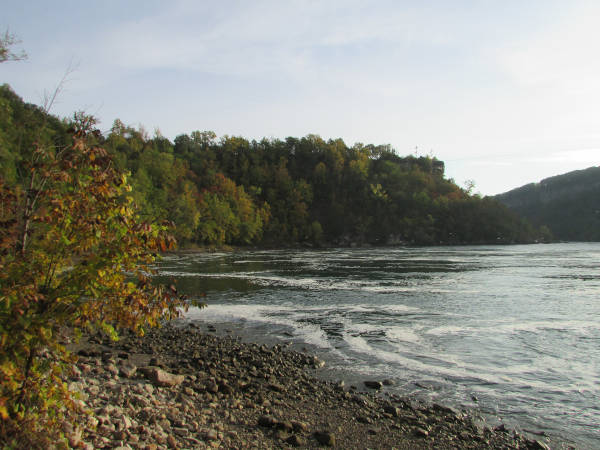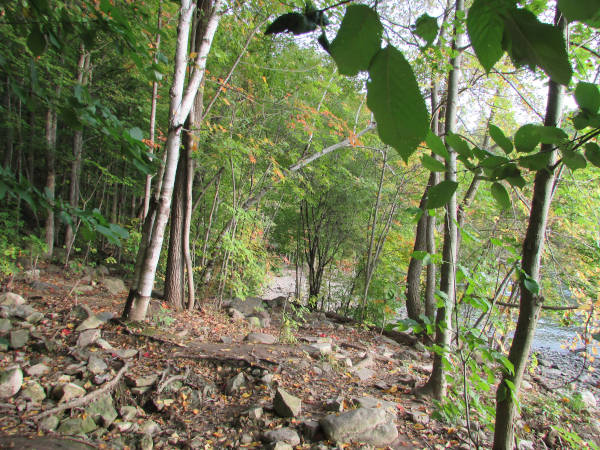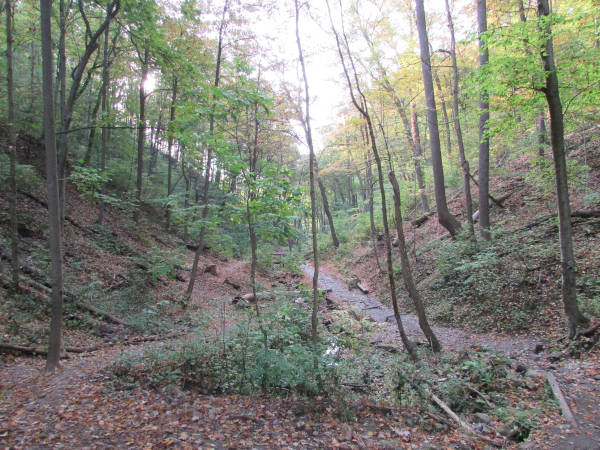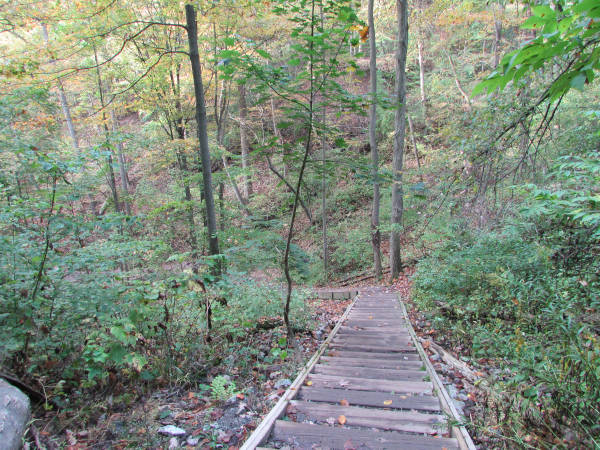 6. A woman I spoke to along the trail was so impressed that I had biked there "all the way from St. Catharines." It was only 12-plus miles.
6a. Did you know that I've put on over 16,800 miles on two wheels since defecting from the SPRM more than seven years ago?
7. On my return trip, while stopping for a break near the Butterfly Conservatory, I looked up and saw some guy with his head down nearly run into a couple of things because he was so preoccupied with his phone. This is a guy who, like the others who drove there, paid an arm and a leg for the privilege of parking his car so he could stroll the grounds at one of the continent's most scenic places, yet couldn't divert his attention from his electronic leash for more than a few minutes. Another sign that those mislabeled "smartphones" aren't a sign of progress. And why I remain one of the handful of people in the Western world without one.
8. I noted with interest that this year's pattern at the Floral Clock was done in recognition of essential workers. The same essential workers who are being fired and/or put on unpaid leave en masse over public health concerns for failure to obey the illegal decrees of tyrannical governments. I'm sure the soon-to-be-unemployed are deeply moved by the gesture.
8a. All workers are essential. Except politicians.
9. Over at Queenston Heights, someone was busy taking shots of his girlfriend/wife near the restaurant. He was so engrossed with her that he didn't seem to notice the "Restaurant Closed" sign she was standing next to, which won't make for a great backdrop in those pictures.
10. Descending the escarpment, a pair of cyclists was going up just as fast as I was going down. They're better than I am, that's for sure. It is still rare for me to be able to get all the way up without getting off and walking my bike to the top.
11. One woman walking up the escarpment was doing windmills with her arms as I passed by, exactly what former Jets goaltender Nikolai Khabibulin used to do before the start of every period. As I've said before, the Old Country keeps following me around.
12. Along York Road was an interesting sign outside of a house that read "We value our hearing. No cannon use." Say what you want about the bird bangers, but the farmers didn't move into your backyard, you moved into theirs. It's like moving next to an airport and complaining about the airplanes.
13. A woman I passed along Queenston Road was wearing a halter top with the slogan "Run" on it. But she was walking. Practice what you preach.
14. Not far from where I spotted that woman was a van with a sticker on the back window that read "Carbon Tax Me." Your wish is Justin Trudeau's command.