Krystina Waler Campaign Launch II
August 22, 2021
Takeaways from CPC candidate Krystina Waler's campaign launch held yesterday: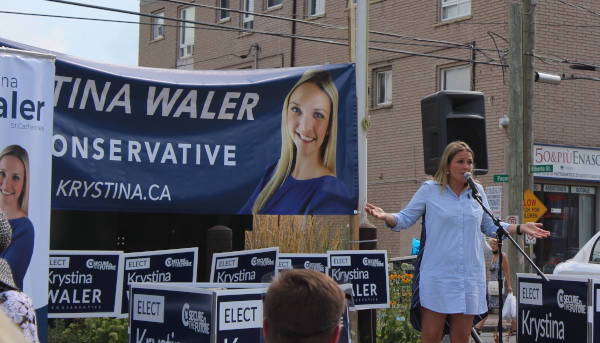 1. This marked her second campaign launch in three years, both of which I've attended. Whereas the last one was on Martindale Road, this one was on Facer Street. It was an egregious violation of an unwritten EDA bylaw which states that all CPC events in our city must take place at a venue on or close to Martindale, preferably at the Armenian Cultural Center.
2. Despite being a card-carrying member of die Partei, I did not receive an invite to the event and instead heard about it through a relative. Initially, I thought I didn't get an invite because I had become persona non grata on account of my online comments, but after talking to others there, I clearly wasn't alone. It apparently wasn't any different when Erin O'Toole came to town recently. Another party member I spoke to, like me, didn't get the invite until the day of the event and it came as no surprise to learn that O'Toole had a very small audience that afternoon. Sounds like they need some serious help behind the scenes. The made-in-St. Catharines credo of "you're just supposed to know" doesn't cut it.
2a. I can't say I'm eager to offer that help nor am I any more eager to renew my membership in die Partei when it comes due some time next year. As I said to a friend recently, we have two liberal candidates running in this election. A red liberal and a blue liberal.
3. When asked to sign in as part of government war regulations, of course I didn't use my real name. Bite me, Doug Ford.
4. Most of the attendees were not wearing masks and were shaking hands with each other in open defiance of the medical tyranny which has enveloped the world. Up yours, Dr. Ford.
5. Normally I don't notice such things, but Krystina was sporting the same oversized nightshirt she was wearing when I attended the breakfast at the Holiday Inn featuring CPC MPs Rob "Hear, Hear" Nicolson and James "Maxime Bernier is a bigger threat to Canada than Justin Trudeau" Bezan. Cue the line from The Terminator, "Wash day tomorrow, nothing clean, right."
6. Though I did not speak to Krystina, I did meet her father, mother and sister. Her parents are divorced, but according to her mother, they're still one big, happy family. Her sister said she is a lobbyist. "I help companies speak to government," was how she described the position. Like her sister, she sounds like a Liberal.
6a. Krystina did shoot me a wave from a distance and thanked me for coming. Not that I blame her, but I get the feeling she really didn't mean it.
6b. Her family expects her to be married within the next year. I wonder if she knows that.
7. Hamburgers, hot dogs, chips, soft drinks and water were on the menu, but a doctor seated at my table was disappointed that there was no coffee or tea available. Funny, but as I was sitting out there roasting with the humidex pushing 40, a hot beverage was not something I was really craving at the moment. But maybe it was just me.
8. Among the notable attendees were Niagara West MP Dean Allison, Sandie Bellows, Mark Stevens, Mike Britton and city councilor/faux conservative Sal Sorrento. During their speeches, Allison said this was the most important election in our lifetime and Bellows said that if any of us did half of what Justin Trudeau has done since he's been in office, we'd be behind bars.
8a. Sandie Bellows' health has obviously taken a major turn for the worse as she was in a walker and had her left arm all bandaged up.
9. Krystina's speech was filled with mostly empty words, though one line hit a raw nerve with me when she chastised Chris Bittle for not having been born and raised here. There were certainly plenty of well-deserved potshots she could have taken at him, but that wasn't one of them. As a relative newcomer, having now spent seven-plus years in this part of the world, I consider myself just as much of a local as anyone else here.
10. Krystina's mother echoed my sentiments that having a strong CUP (Communist Union Party) candidate will help Krystina immensely by sucking off the leftist vote from Bittle and the red liberals. I've already seen a few CUP signs around town, and that could indeed be the deciding factor in this riding.
11. As I mentioned to a friend, the first step in taking our country back is getting rid of Justin Trudeau. Next year, it's Doug Ford's turn.