Over the River LVI
October 9, 2019
Highlights and pictures from my 56th two-wheeled trip to the Great State of New York: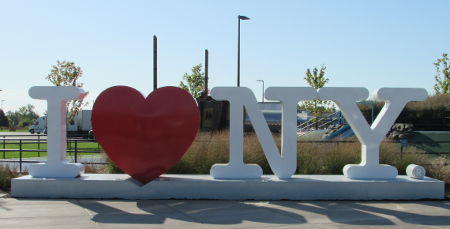 1. While waiting for the #40 Buffalo-bound bus near the Niagara USA Visitor Center, a Middle Eastern couple approached me and asked where they could find a restaurant. As usual, I was able to point them in the right direction. Later, on the return trip, I was able to direct a lost couple from North Carolina to the bus stop and tell a Middle Eastern guy how long the bus ride was to Buffalo. Not that I mind helping out, but I've been asked for tourist information so often in my travels that I should start getting paid for it.
1a. On that topic, I've been told more than once that I could make a good tour guide. Whether I would or not, I know I'd be a lot more prepared than some of the so-called professionals I've had on bus tours.
2. There was a virtual tent metropolis outside the GM plant in Tonawanda (Town of, not City of) as striking UAW workers were picketing. Unfortunately, you could smell them from a mile away as they were burning firewood in barrels to keep warm.
3. Scenes along the Shoreline Trail in and around Black Rock Canal Park:
4. One little, two little, three little seagulls . . .
5. This is Eddie's River Grill, which was closed for the season. It's only early October and it got up to 20 degrees later in the afternoon. As a long-lost friend once said to me, the farther south you go, the wimpier they are about cold and snow.
6. Support America. Support unions. Pick one.
7. Scenes at the WNY Welcome Center in Grand Island:
8. While enjoying a break at the WNY Welcome Center, an older gray-haired fellow who fancies himself as the unofficial ambassador for the newly opened facility approached me and talked to me at length. He apparently had lots of time on his hands because his wife was at Bible study and during our conversation, he told me he used to travel around the state repairing computers and likes to talk. He also used to do a lot of cycling and explained the benefits of using a recumbent bike. I certainly didn't mind the conversation, but it sure sounded like the guy was missing a little purpose in his post-work life, not an uncommon issue among retirees.
9. At the Rainforest Cafe in Niagara Falls, NY:
10. While in the washroom at the Niagara USA Visitor Center, there was a guy in the stall who took a call on his cell phone while rustling toilet paper, presumably wiping his rear end. Now there's the ultimate dirty talk.
11. For some reason, the City of Niagara Falls (Canada) has decided to install speakers on light posts around the bus terminal and blast rock music. For the love of Pete™, why?