Visite à la Capitale Nationale
August 4, 2019
Highlights and pictures from my recent four-day, three-night visit to the Capitale Nationale: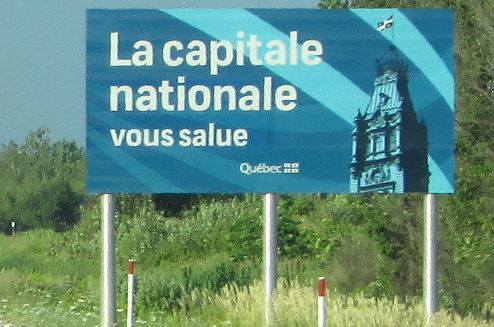 1. This marked my first bus tour in nearly five years, and of the 45 paying passengers, I was only one of two traveling solo and the only one with a DSLR camera. A couple of people brought point-and-shoot cameras, but the rest simply snapped the odd shot with their phones. Why people come all that way to one of North America's most picturesque destinations and don't bother to bring a real camera is beyond me. But to each his or her own.
2. Among the 45 was a teenage kid named Luke, who was the only passenger younger than me. In the understatement of the month, Luke didn't want to be there. He had obviously been dragged along kicking and screaming and made little effort to hide his disgust throughout the entire trip. En route, he was completely engrossed with his small Playstation and he probably would have been happier staying in the hotel with it than he was out on the tours we were on.
3. Another of the passengers had a backside so wide that she had to shuffle sideways along the aisle to get to her seat. I talked to her briefly and she seemed to be a very nice person, but she could have done without all the croissants she wolfed down at the hotel.
4. As I would come to discover, our tour guide who I will call Ethel was the 46th passenger. As soon as she got on board at the first stop after St. Catharines, I immediately thought of Bruce Willis' line in Die Hard 2, "Hey Trudeau, did things just get better or worse?" Sadly, my first impressions of this ding-bat (as in Edith Bunker) would prove deadly accurate. Our guide was originally supposed to be the owner of the tour company, but Ethel got the call at the last minute. A skinny woman in her mid-60s with a frizzy "stick your finger in the socket" hairdo, Ethel was a volunteer who had done this same trip last year. Yet despite having just been there, she couldn't remember many details, including what we'd be having for the included dinner the first night or the breakfasts each morning at the hotel. "It's been a whole year," she said. All she could recall was that they were good. She said she would have remembered if they were bad.
Even when people would ask where we would be stopping, she had no idea. "The driver knows," she would keep saying. She couldn't even tell us where we were at any given time. When one guy asked, she replied, "I don't know, Toronto?" All in all, I would get the impression that the driver would have made a better escort. And that's not his job.
But rest assured, she sure did remember the local guide we'd be getting once we got to "Cue-bec." On and on she raved about who I'll call Pierre, saying he was really easy on the eyes and "good lookin'." As if that's the most important quality a tour guide needs to possess. She also remembered that beer is real cheap in "Cue-bec," though alcohol is more. I guess she doesn't consider beer to be "alcohol."
5. Getting the assignment at the last minute left poor Ethel no time to hustle up any movies for us to watch en route, much to her chagrin. At each stop she kept asking if they sold any DVD movies, but came up empty-handed each time. Needless to say, Ethel was not impressed when I mentioned how much I appreciated not having any movies.
6. Before winding up her introductory speech following our last pick-up point, Ethel asked us to let her know if we were too hot or too cold and they would try to "regulate the bus." That would prove to be the co-winner of the Line of the Trip Award.
7. Throughout the trip, Ethel would keep saying, "My instructions say . . ." when talking to the driver. Her instructions obviously didn't cover being prepared or being friendly to customers.
8. Speaking of the driver, he wasn't all that engaging except when he was chatting with Ethel, but he otherwise gets top marks for being alert and safety-conscious, not to mention being highly organized with the luggage, even keeping counts of the total number of bags for each pick-up point.
9. Passing BMO Field in C.U., I noticed that the stands were empty. The Argos must have been playing.
10. When we passed the Rogers Center, the older guy who appeared to be Luke's grandfather said, "The Skydome . . . uh . . . it opens up . . . uh . . . the Skydome, it opens up." Uh . . . I think it's good he's not traveling alone.
11. Along the 401 in Pickering I spotted a place called "Chick'n Joy." I'll go out on a limb and suggest it doesn't hold too much joy for chickens.
12. Not far from that place was an ad for a lingerie store with the slogan "Aren't we naughty?" right underneath a sign for Amish Furniture Designs. What's wrong with this picture?
13. After our stop in Whitby, we passed two joggerettes on a very busy Consumers Drive who chose to eschew the sidewalk across the street and instead run on the road. As I've often said, most times with joggers, it's not about fitness, it's about getting noticed.
14. As we crossed the international border later in the afternoon, we were following a truck from Bison Transport. As I've said before, the SPRM does keep following me around.
15. Put some "foo" on your table . . .
16. Among the cars we passed on the A-20 between Montreal and Quebec was one from the Great State of Washington. Long way from home, to say the least.
17. As we approached the Pont Pierre-Laporte in Lévis, Ethel said we were in "Levi's" as in the jeans. In fairness, Pierre, our local guide for the next two days, was fully fluent in Quebecese, but it might have been a good idea to send along an escort who at least had a passing high-school level of knowledge of the predominant language of the country we were visiting.
18. The Hôtel Classique in Ste-Foy where we stayed gets a passing grade, but there were some issues. First of all, there was always a long wait for the elevator. There were only three elevators for the 12-floor hotel, and even when one came, it was often packed. Once I got to my floor, the hallway was so dark that I actually had to dig out my reading glasses to see the room numbers and how to insert the card into the slot to unlock the door.
The room itself was clean, but as one reader would later put it, it was only "luxurious looking" as the chair was hacked up and there were some grimy spots and chipped paint on the wall.
In addition, a sore point was how the battery in the cordless phone kept dying. I'd have happily used a corded phone instead, that is, if they provided one.
On a positive note, however, the hotel was deathly quiet at night even though all the rooms around me were occupied.
19. In the lobby, there was a mirror on the ceiling. Weird.
20. The hotel offered to take our bags up to our rooms as well as take them downstairs when we were checking out, but I opted to take matters in my own hands instead. As I told Ethel, this crusty old ex-Winnipegger can't just leave his luggage out in the hall unattended. You can take the Winnipegger out of Winnipeg, but you can't take Winnipeg out of the (ex-)Winnipegger.
21. The much-ballyhooed "free" supper consisted of BBQ chicken legs, something that appeared to be a beef stew-like mixture swimming in an Olympic-size pool of gravy (can you say "Where's the beef?"), pea soup (of course), assorted vegetables, raw carrots and cauliflower along with brownies and other dainties for dessert. Not great, but good enough.
22. My meals for the next couple of days came from the Metro across the street at Place Ste-Foy that was open until 11:00, even though Ethel, our supposedly experienced tour guide, told us that everything closes at 6.
23. At the Metro, there was only one cashier working, but I still opted to wait in line behind a woman with a full cart whose order came to $205 rather than use one of the self-serve stations. If they want to pay me to be a cashier, then I'll ring up my purchases. Otherwise, they can do it.
24. I was shocked to hear the Metro cashier actually speaking to someone ahead of the woman with the full cart in the Canadian language. Throughout the next three days, in fact, I would find people a lot more accommodating to visiting Canadians than in Gatineau, a border town just over the river from Ottawa, and not just in the touristy areas. Not being all that fluent in Quebecese, it was something I was concerned about, but I was able to get by surprisingly well. In addition, I noted the absence of the snotty attitudes I encountered so often in Gatineau.
25. One thing the Capitale Nationale did have in common with Gatineau was that there were fewer dogs around. Whereas here, practically every second house has a dog, I found far fewer of them on my travels there.
26. Someone at MTQ thinks the weight of each highway sign needs to be marked on a sticker affixed to the back. I'm not sure I agree.
27. Breakfast at the hotel would be just as uninspiring as the dinner they provided. The choices were combinations of ham, bacon, sausages, scrambled and hard-boiled eggs, hash browns, room temperature Eggo waffles, pancakes, toast, cut-up cantaloupe, Corn Flakes and Raisin Bran along with orange and apple juice. Again, not great, but good enough. Barely. I had to supplement it with my haul from Metro. Had I to do it all over again, gruau at Tim Hortons across the street would have been a much better option.
28. Before taking off for our Monday morning tour, I noticed the absence of bike racks on the city buses passing by on Boulevard Laurier. The only buses with racks were the special RTC (Réseau de Transport de la Capitale) Métrobuses, yet they are standard issue on every bus in Niagara, Hamilton, the GTA and even the NFTA-Metro buses in the Great State of New York.
29. I noted that many of the STLévis buses had "Lévis, ville de cooperation" painted on the side. I'm keeping my fingers crossed that our mayor doesn't get the bright idea of putting his "Compassionate City" moniker on St. Catharines Transit buses.
30. While going down the Grande Allée toward our first stop of the day, the Plains of Abraham, Pierre was gushing about the city, talking about the low crime rate, availability of jobs in government and the IT sector and what a great place it is to live. He failed to mention that you can not possibly hope to be accepted unless you are pure laine Québecois. "Les Anglais" need not apply. He also spoke about how cheap university and private schools were, again failing to mention that it's all heavily subsidized by Canada and Alberta in particular through the flawed welfare/equalization scheme.
30a. Just once, I'd like to hear a Quebecer thank Alberta instead of calling them selfish.
31. During his spiel, Pierre also mentioned that tour guides in his country have to be licensed. Given my experiences with Ethel, maybe that's not such a bad idea.
32. The guided tour of the Plains of Abraham and the drive through the old city were incredibly disappointing. Pierre's detailed knowledge was impressive, but he just kept going on and on at breakneck speed and tried to fit far too much into a short period of time. The whole thing ended up going by like a blur, and by the time I got off the bus at noon, I was in sensory overload. I think he must have been reading my mind when he said, "You must be thinking 'When is that guy going to shut up?'" If he ends up reading this, and there's a possibility he might, I hope he takes this criticism constructively. Dead air isn't always a bad thing and sometimes less is more.
33. Stupid question of the trip: Is this the St. Lawrence River? No, it's 12 Mile Creek.
34. T-shirts spotted in Vieux-Québec: "Gay Geek" and "Make America Smart Again." How about making Canada smart again? Or just less stupid.
35. So which is it, Québec or Canada?
36. The old city was nice to see, but I would describe it as an European version of Toronto's Distillery District filled with tourist shops. If I make a return trip, it's not a place I'll make an effort to visit again.
37. For anyone planning on visiting and doing a walking tour like I did, the hills are a killer, especially during my time there when the humidex was pushing 40.
38. Scenes in the old city:
38a. The vast majority of these scenes were captured while Pierre was busy lecturing the group in front of Notre Dame des Victoires Church. As would be the case the following day, he left us with next to no time on our own to explore.
39. Scenes at the Assemblée Nationale, Québec's federal parliament building:
40. While capturing some shots of A-440, the daughter of a family of nearby Americans who noticed me asked her father, "Who's that?" "Just some dude," he replied in what would be the other co-winner of the Line of the Trip Award.
41. Jac and Gil went up the hill to fetch a pail of water . . .
42. I had wanted to visit the site of the old Colisée, which Pierre told me was still standing, but exhaustion and the heat got the better of me. Not to mention all those hills that make the Niagara Escarpment seem like an anthill. As I told Pierre, one of my most painful childhood memories was watching the Jets lose Game 7 of the 1977 AVCO Cup final to the Nordiques at the Colisée.
43. Once I was done downtown, I took a long, slinky RTC Métrobus back to Ste-Foy for a break before my next adventure. Very few paid the $3.50 cash and most paid with their fare card. Which actually appeared to work, unlike the case in a certain other part of the world. The seats and interior were clean and there was a display board showing the estimated time to upcoming stops and when there was a layover, it even showed how long before departure. There was a back door, which, when the green button was pressed, actually opened. Each and every time. No battering ram required, unlike the case in a certain other part of the world. The only fault I would mention was that the announcements of each stop were not loud enough. Even with the bus being fairly quiet and only about half full, I could barely hear them.
44. While at the aire de restauration rapide in Place Ste-Foy, I noticed they had a free charging station for phones and tablets, unlike the case at the Niagara Falls Bus Terminal, where you have to pay $6 for a 24-hour rental of a charger.
45. On my way out of the mall, I passed by a guy sitting outside of a store grunting like he was severely constipated. Methinks he needed to use the nearby washroom.
46. The purpose of this metal siding on the stairs at the pedestrian overpass over the A-73 near Chemin des Quatre-Bourgeois is, well, unclear:
47. Graffiti in a railway underpass. En anglais! Sacrebleu!
48. Scenes at the Quai des Cageux off Boulevard Champlain, where I had to climb down an obscure staircase off a gravel parking lot to access from Route de l'Église.
49. On my way back, there was a woman on the sidewalk bawling and crying as police and an ambulance were busy at a house across the street. I gather it wasn't a false alarm.
50. When I saw Ethel in the elevator the next morning, she said, "I was glad to see you made it back." If it was a concern for you, you might have tried acknowledging my presence when I passed right by you in the lobby on my way out in the early evening. But I guess that wasn't in your instructions.
51. While in the elevator, Ethel told me that breakfast would be 15 minutes early the next day and that they'd be leaving a half-hour early. But she neglected to mention that we'd also be leaving a half-hour early for the tour that day as well. Even during breakfast, one woman noted that we're not leaving until 9:00, the scheduled time on the itinerary, a detail Ethel confirmed during her introductory speech. So then at 8:35, while I'm killing time in my hotel room, Pierre calls wondering where I am. For the record, I don't care if you want to change the itinerary. In fact, I appreciated the earlier departure time. But let your passengers know. "You're just supposed to know" doesn't cut it.
52. The highlight of the breakfast that day was being in between two women each of whom were spitting bits of food out of their mouths faster than it was going in. One of them proceeded to repeatedly dig into the jam jar and spread it on top of the cow fat on her half-eaten croissant, then left the spoon for others to use. The other one mentioned that she had ordered poutine for the first time yesterday just because they were in Quebec, but couldn't eat half of it because it was awful. I said it was no wonder since it's a dish that looks like it was held underneath a cow with diarrhea. She thought that was funny, but from listening to her on the bus, she finds everything funny.
53. The first morning stop was the basilica at Ste-Anne-de-Beaupré, where I got a number of shots, including the following, while the others sat down to listen to more of Pierre. It was an impressive place and pictures can't do it justice.
54. After getting back to the bus, the guy in the middle of the bus known as "Big John" explained why he didn't buy anything at the gift shop. "I figure the big guy's up there and a trinket isn't going to get me there," he said.
55. I was hoping that we would instead make directly for Montmorency Falls, but instead we got roped into two lousy stops on the way that did little but waste my time. The first one was Chez Marie, some outpost in the middle of the sticks supposedly known for their maple butter. So allegedly popular is this place that the pictures of the bus drivers who stop there are on a wall. I refused to go inside just out of principle. Our next stop, Cuivres d'Art was equally bad. The work they do in turning pieces of copper into artwork is amazing. But that wasn't why I was there.
56. Second stupid question of the trip: After Pierre mentioned that one particular tract of land off Avenue Royale was owned by the Gagnon family, one woman asked if they were in the chocolate business. No, idiot, that's Ganong.
57. After finally dispensing with Chez Marie and Cuivres d'Art, Pierre only gave us 15 minutes at Montmorency Falls before the bus would leave to return the hotel. Not only was a major attraction like that sacrificed at the altar of such unnecessary and worthless stops, but they deliberately did not give us a meal break because Pierre wanted us "good and hungry" for the sugar shack meal on l'Île d'Orléans that evening, one that I wasn't going to be partaking in. Well, he made me hungry, I'll give him that. But as for the good part, that's left as an exercise for the reader. Failing to stop for a meal was especially egregious given the extreme heat and humidity and that it was a busload of seniors.
Fortunately, I had planned to make my own way back from there anyway, so I took my leave of the group and gave myself enough time to get some good shots of the falls before moving on.
I'd have loved to have gone on that gondola and/or climb up on those stairs to get a better view, but alas, I only had so much time and reserves of energy left. If I make a return trip, I'll definitely make a point of spending half a day there.
58. On the RTC bus that took me back to the hotel, one woman was busy applying mascara and eye shadow. Putting sticks around your eyes on a moving bus isn't something I would do, but to each his or her own. Later, a guy got on with a big beer belly and boobs that some women would pay big money for.
59. Maybe this will sound a little corny, but coming into downtown from the east, I actually had the feeling I was in Minneapolis.
60. The following morning, even though Ethel said we'd be leaving at 8:30, I was in the lobby waiting at 7:30. Just in case she decided to change the itinerary again without telling me.
61. Before getting on board, one couple wanted to give Ethel a little tip "for putting up with us." Instead, Ethel should have been the one giving us some money for putting up with her. Later, they did circulate an envelope on the bus for her. I was not given the opportunity to contribute and if I had, I would have felt quite morally justified in taking some money out. I paid for the services of a professional and I didn't get one.
62. As anxious I was about the trip before leaving, I was a little sad to be leaving that morning. It turned out to be a much better experience than I had anticipated and I'm very glad I went.
63. Along the A-20 near Ste-Eulalie, we passed a motorcycle on which a female passenger, rather than putting her arms around the male driver, was feeling up his butt. Get a room.
64. During the return trip, someone behind me had one of those "I'm not long for this world" coughs. It wasn't a hacking cough like a smoker, rather it sounded like a gasket had blown on the bus. Earlier in the trip, I spotted someone with a mole on her face that had a blue ring around it. Get it checked. Now.
65. The aires de service in Quebec, like this "little brown house" outside St-Hyacinthe that we stopped at, are a little more primitive than the ONroutes along the 401, but at least the washrooms were clean. They still beat the open pits in the SPRM by a mile.
66. Ethel's announcement that we had crossed the border drew a round of applause on the bus and left me with a sense of pride of being an Ontario resident, especially since the five-year anniversary of my defection from the SPRM was coming the following day.
67. Ethel finally picked up her prized movie at the mall across the street from the hotel and played it after our lunch stop. From what little I saw of it, Bohemian Rhapsody isn't something I care to see again.
68. As for the dinner break, well, there wasn't one. Our last stop was the Trenton ONroute where we had little time other than to get off the bus and go to the bathroom. Later, Ethel suggested that those going on beyond Hamilton might want to pick up a coffee and a muffin at the McDonald's across from Lime Ridge Mall. Sorry, that doesn't cut it. For the record, this marks the first time on a bus tour I've been on where meal breaks were deliberately missed.
69. Past Belleville, they were cleaning up an accident on the 401 in the other direction and traffic was backed up for miles. Some were even out of their cars in large groups and it looked like Ontario's biggest tailgate party.
70. On his way off the bus, Big John said to me, "You take care of things in St. Catharines." Indeed, I will.