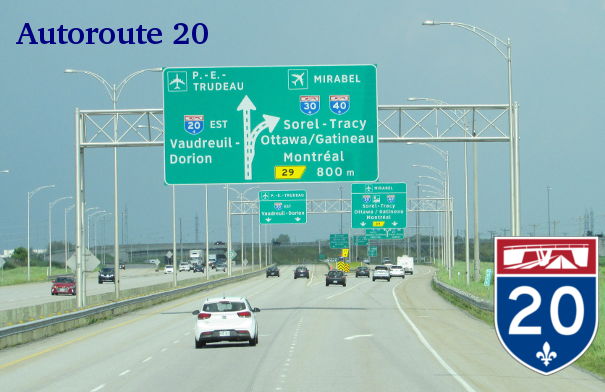 A-20 is Québec's longest Autoroute, stretching from the Canadian border near Cornwall, Ontario through Montréal and the Québec City area before ending near Rivière-du-Loup. There is also a disconnected section of A-20 farther east running between Rimouski and Mont-Joli. For most of its length, A-20 carries the Autoroute Jean-Lesage and Trans-Canada designations.
Western Terminus: Junction of King's Highway 401 at the Canada/Québec border near Rivière-Beaudette.
Eastern Terminus: Junction of R-132 near Rivière-du-Loup.
Click here to show the route.
Images of A-20:
© Curtis Walker. All rights reserved. All pictures used on this site are the property of the respective photographers and are used by permission. No picture may be used without the consent of the respective photographer.

All pictures taken by Curtis Walker unless otherwise noted.