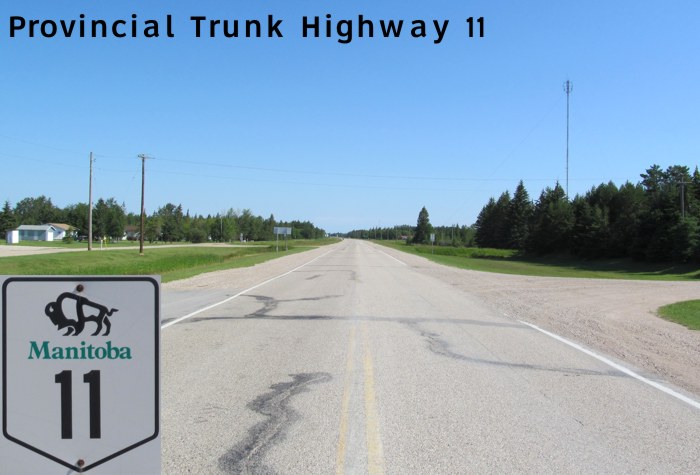 Southern Terminus: Junction of PTH 1 south of Hadashville.
Northern Terminus: Junction of PTH 59 near Traverse Bay.
Multiplexes: PTH 11 follows PTH 44 for 20 km north of Elma through Whitemouth.
PTH 11 travels in a south-north direction from Hadashville through Whitemouth and Lac du Bonnet, then turns in a northwesterly direction as it follows the Winnipeg River through Powerview-Pine Falls and ending at PTH 59 near Traverse Bay. Click here to show the route.
In 2009, the section of the route between Lac du Bonnet and Traverse Bay was named the most dangerous highway in Canada in terms of deaths per kilometer.
PTH 11's original routing in 1925 began at Seddons Corner and followed PR 214 (Milner Ridge Road) to Lac du Bonnet until the 1950s when the present-day route was built.
Images of PTH 11:
© Curtis Walker. All rights reserved. All pictures used on this site are the property of the respective photographers and are used by permission. No picture may be used without the consent of the respective photographer.

All pictures taken by Curtis Walker unless otherwise noted.