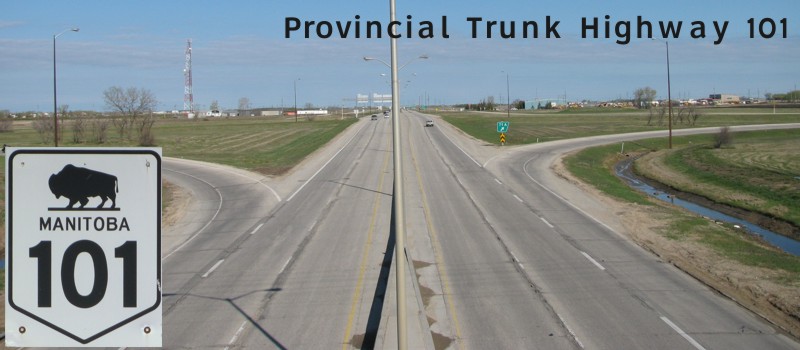 PTH 101 comprises the northern part of the Perimeter Highway that encircles the City of Winnipeg. Unlike PTH 100, the southern part of the Perimeter Highway, it is not signed with the Trans-Canada designation. It both starts and ends at PTH 1, the Trans-Canada Highway, and is twinned and divided through its entire length except for a brief stretch east of PTH 59 in the RM of East St. Paul. Click here to show the route.
PTH 101 is as close as Manitoba has to a freeway with controlled interchanges at both its eastern and western termini as well as the junctions of PR 204/Route 42 (Henderson Highway), PTH 9/Route 52 (Main Street), PTH 8/Route 180 (McPhillips Street), PTH 7/Route 90 (Brookside Boulevard) and PR 221/Route 25 (Inkster Boulevard). There are traffic lights at the junctions of PTH 15/Route 115 (Dugald Road), PTH 59/Route 20, PR 409 (Pipeline Road) and PTH 6.
PTH 101 serves as the southern terminus for PTH 6, 7, 8 and 9, PR 204 and 409, it is the western terminus of PTH 15 and PTH 190 and it is the eastern terminus of PR 425.
Eastern Terminus: Junction of PTH 1/Route 135 (Fermor Avenue) and PTH 100 in the RM of Springfield east of Winnipeg.
Western Terminus: Junction of PTH 1/Route 85 (Portage Avenue) and PTH 100 at the western edge of Winnipeg.
© Curtis Walker. All rights reserved. All pictures used on this site are the property of the respective photographers and are used by permission. No picture may be used without the consent of the respective photographer.

All pictures taken by Curtis Walker unless otherwise noted.