To Hell With the NHL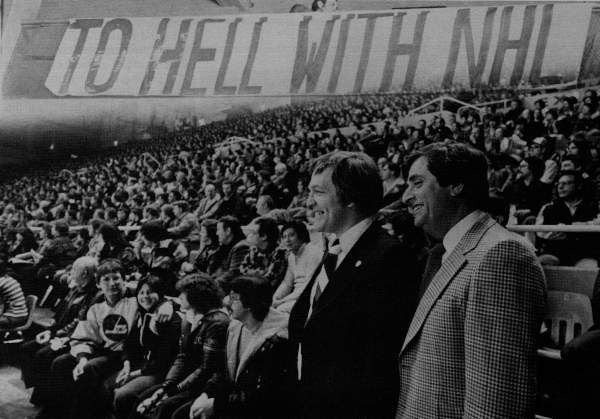 The date was March 8, 1979.
NHL owners were gathering to decide whether or not to take in four of the WHA's remaining six teams, including the Jets.
The vote was expected to pass.
It didn't.
Toronto and Boston voted against it. That much was expected. They had old-school owners who would never have voted for a merger with the rival league in a million years.
Vancouver and Los Angeles voted against it. Travel was among their concerns.
But the one vote that killed the deal was the "no" vote from the Montreal Canadiens. The team owned by Molson Breweries, a major sponsor of the Jets.
There was outrage. Fans began a boycott of Molsons. The Jets terminated their sponsorship agreement with them. At the Jets' next game, a 7-2 victory over Quebec at the Arena, someone hung a big sign high up in the corner that read "TO HELL WITH NHL." And the biggest cheers of the night came when they asked fans to stay for announcement of the three stars, as chosen by the three star selection committee. In years past, it had always been the Molson three stars, chosen by the Molson three star selection committee.
The boycott and fan outrage had an impact. And two weeks later, the owners met again. This time, the vote passed, paving the way for the Jets along with the Edmonton Oilers, Quebec Nordiques and New England Whalers to join the NHL. The Jets kissed and made up with Molsons and lived happily ever after.
But whether or not the Jets' admission into the NHL was a victory is left as an exercise for the reader.