Dale Hawerchuk - Hockey Hall of Fame Class of 2001
On November 12, 2001, Dale Hawerchuk officially was inducted into the Hockey Hall of Fame. His induction should have taken place one year earlier, but he was snubbed by the selection committee, which opted to select less deserving players. Nonetheless, he was not stopped from taking his rightful place among the greats of the game, and going into the Hall of Fame as a member of the Winnipeg Jets. He starred for nine seasons as a Jet, coming to the Jets as the first overall selection in the 1981 Entry Draft. He tallied over 100 points in six of his nine seasons as a Jet, was the team's dominant player for his entire tenure in Winnipeg, and became the symbol of the franchise during its NHL existence. The teams he played on were rarely better than mediocre, but that did not stop Hawerchuk's rise to stardom.
Here are some pictures from the induction ceremony: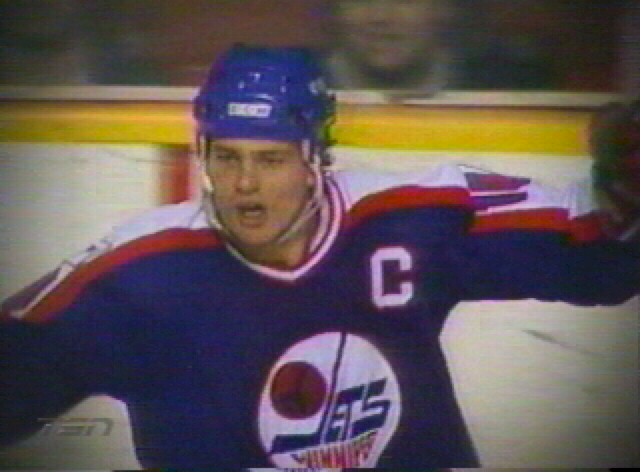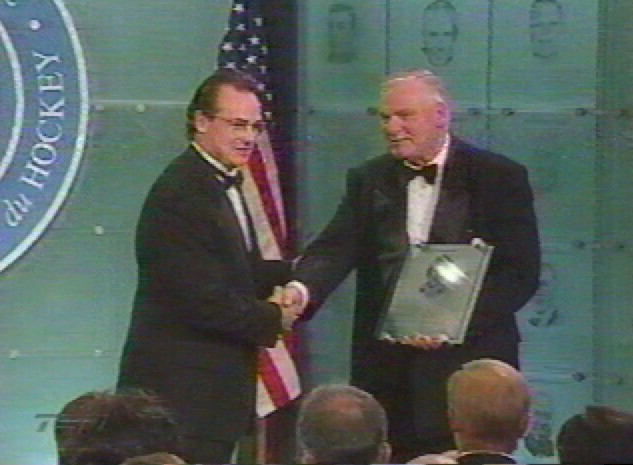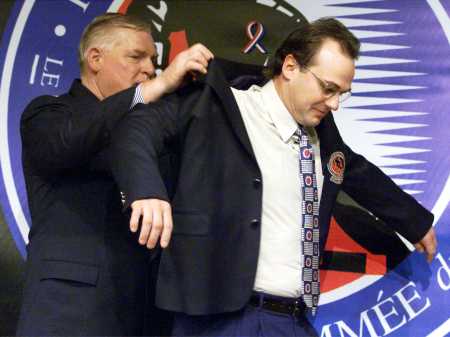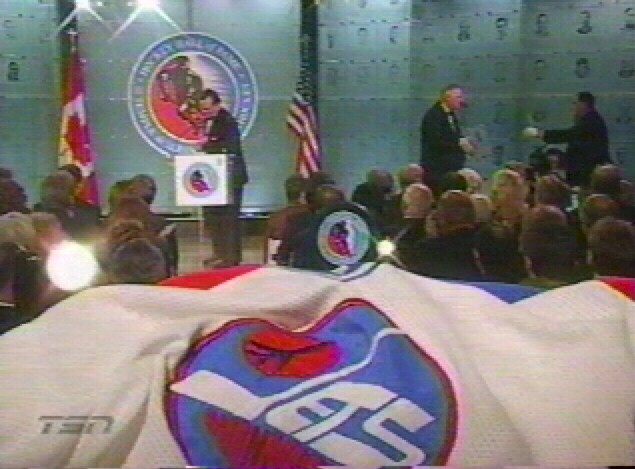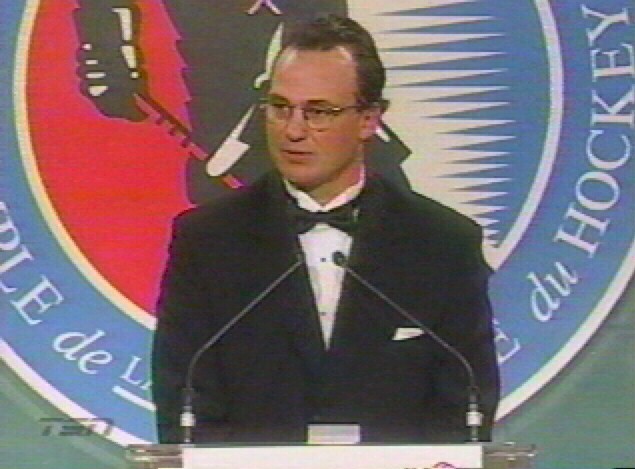 In addition, here are some thoughts of Dale's rightful induction into the Hall of Fame from a November 2001 Ottawa Citizen article authored by former teammate Jim Kyte:

By: Jim Kyte

Column: Point Man

This year's Hockey Hall of Fame inductees would give their old opponents some haunting memories. I should know.

As a defenceman who played for the Winnipeg Jets, I was the victim of too many Jari Kurri one-timers from Wayne Gretzky feeds. I was also burned by a Mike Gartner breakaway and on the receiving end of a hip check from Slava Fetisov.

However, I also have had the good fortune of having a front-row seat, as a Winnipeg player, to watch teammate Dale Hawerchuk quickly grow to superstar status even though it took years for his achievements to really be recognized as coming from one of the best in the game.

After Dale led the Cornwall Royals to their second consecutive Memorial Cup in 1981 and was named the Canadian Hockey League's most outstanding player, Winnipeg Jets general manager John Ferguson made him the No. 1 pick in the 1981 NHL draft.

When it came time for Hawerchuk to sign his first contract with the Jets that summer, a ceremony was held at Winnipeg's most famous intersection: Portage Avenue and Main Street. A ceremony at Portage and Main was only previously held for hockey legend Bobby Hull, who signed with the Jets nine years earlier, when the team was part of the World Hockey Association.

With a throng of supporters waiting, Fergie, ever the showman, had Dale arrive by armoured truck.

Fergie's team was coming off a disastrous last-place finish in its second NHL season (9-57-14) in 1980-81, and he wanted to give the fans in Winnipeg a spark of hope. It was a gamble that could have easily blown up in Ferguson's face if Dale didn't live up to the hyped expectations of other first-overall picks, such as Greg Joly and Doug Wickenheiser before him and, more recently for Ottawa Senators fans, Alexandre Daigle.

While some players might suffocate under the weight of such lofty expectations, Dale was one of those special hockey players who thrived on pressure.

I had been the No. 1 pick for the Cornwall Royals in the Ontario Hockey League draft that same year, in 1981. I trained hard that summer, lifting weights and skating regularly. Just before camp opened, I received a letter from Cornwall head coach Bob Kilger, informing me of a five-mile run for players on the camp's first day. I hadn't run all summer and met Dale for the first time at the start line. I met him again many times over that day as he kept lapping me and eventually won the race. I finished an embarrassing third-last. Not a good way to make a first impression on the coach.

Dale was in great shape and ready for the NHL as he left Cornwall for the Jets camp, and he never looked back.

Dale more than lived up to expectations in his rookie season. Not only did he win the Calder Trophy as NHL rookie of the year in 1981- 82, but he also did it in grand fashion by setting an NHL record as the youngest player in league history to surpass 100 points in a season. That rookie record for a player coming out of junior hockey still stands at 103. The Jets jumped 48 points in the standings from the previous season, a record in itself, and helped earn head coach Tom Watt the Jack Adams Trophy.

I followed Hawerchuk's path from Cornwall to Winnipeg after being drafted by the Jets in the first round in 1982 and became Dale's teammate for the next seven years.

Dale -- "Ducky" as he was known to his teammates -- was never considered a fast skater. He had a choppy step, almost jumping on his skates at times, but, nevertheless, was very quick. I rarely saw him get beat to a loose puck, and, like all illustrious centres, he could anticipate where the open man was on the ice. And did he ever score some beautiful goals.

Martin Havlat's spectacular goal for the Ottawa Senators against the Colorado Avalanche on Thursday night reminded me of a Hawerchuk play I had seen many times. Dale's patented move, of going to his backhand and then swiftly cutting to his forehand to release a quick shot, caught many goalies and defencemen off guard over the years.

Dale had an intense drive to win and never quit. It seemed as though, the more success he had, the more he wanted. The season that sticks in my mind the most is 1984-85: Dale had finished third overall in scoring that season with 53 goals and 77 assists for 130 points. He was absolutely dominating and should have been treated by the media as a true NHL superstar. Unfortunately, other than the people of Winnipeg and our Smythe Division opponents, Dale was virtually ignored by the major-media markets because of an Edmonton guy named Gretzky, who was helping turn the Oilers into a dynasty.

Hawerchuk was a five-time all-star who went on to play with the Buffalo Sabres, St. Louis Blues and Philadelphia Flyers. He played for the Canadian teams that won the 1987 and '91 Canada Cup tournaments, and was named Most Valuable Player in Canada's thrilling victory against over the U.S.S.R. in the 1987 final.

Suffering badly from an arthritic left hip, he had one legitimate crack at hoisting the Stanley Cup with the Flyers in 1996-97, but the Flyers were swept by the Detroit Red Wings in the final. Dale retired that summer, 10th on the all-time NHL regular-season scoring list with 1,409 points.

The Jets already have two members enshrined in the Hall of Fame: Bobby Hull and Serge Savard. However, both really made their names with their original NHL teams, the Chicago Blackhawks and Montreal Canadiens, respectively. So Dale's induction into the Hall of Fame on Monday has Winnipeg beaming with pride, as truly one of the city's own is being recognized. Cornwall is mighty proud, too.

Long-time Jets player Randy Carlyle said it best: "He was basically just one of the boys who had more talent than most of the boys."

Congratulations, Ducky! You're finally getting your rightful due as one of the all-time greats.