The Greatest Jets Team of All Time
In their later years, the Jets were hardly a model of success on or off the ice, but there was a time in which they iced some of the greatest teams in pro hockey.
Which begs the question as to which one was the best. The Jets had three championship teams in the WHA and a fourth that made it all the way to the seventh game of the finals despite a rash of injuries and having to travel to Moscow in midseason to fulfill the league's commitment the Nordiques had backed out of. Though they rolled over for the Oilers in the second round of the playoffs, the 1984-85 squad that finished fourth overall in the NHL also deserves an honorable mention.
But the honor of being called the best Jets team of all time clearly goes to the 1977-78 AVCO Cup champions.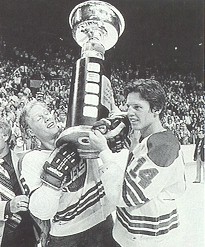 Anders and Ulf hoist the AVCO Cup
The 1976 and 1979 teams were certainly worthy champions, but the 1978 winners were special. They were a complete team, loaded with depth.
In goal, where Joe Daley had carried the bulk of the load in previous years, he shared the duties with newcomer Gary Bromley, giving the Jets a formidable one-two punch that had no equal in the league. Needing extra muscle on the blue line, the Jets picked up Kim Clackson and he made his presence felt on a deep defensive corps led by Lars-Erik Sjoberg. And up front, this was not just a one-line team led by Bobby Hull, Ulf Nilsson and Anders Hedberg, the famed "Hot Line." They had Peter Sullivan, Willy Lindstrom, Dan Labraaten and another newcomer in Kent Nilsson. Valuable role players Ken Baird, Bob Guindon, Dave Kryskow and the ever-reliable Bill Lesuk also had an impact.
This team had few weaknesses, and it was no wonder that they finished first overall and won eight of nine playoff games to capture their second title in three years.
What made their finest season even more remarkable was that they nearly didn't finish it.
Midway through the season, the community ownership group that had taken over the team from Ben Hatskin in 1974 ran out of money. Bills needed to be paid. Only when a group led by Michael Gobuty and Barry Shenkarow stepped forward was the team's short-term future assured.
There was also the backdrop that Hedberg and Ulf Nilsson, the two Swedish stars so beloved by the fans, would be leaving at season's end. During the year, each accepted a lucrative offer from the NHL's New York Rangers, but they still gave it their all for the Jets the rest of the way and finished out the season in a blaze of glory, leaving Winnipeg fans with the ultimate parting gift.
So, for so many reasons, the 1977-78 squad has to be regarded as the best Jets team of all time.