Goals for Kids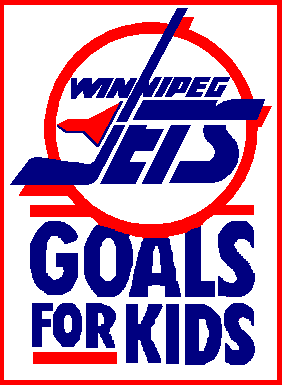 Starting in the 1987-88 season, the Jets wore a Goals for Kids patch on their uniform, which lasted through their final season in 1995-1996. If you've ever wondered just what was that all about, here is a look at the Goals for Kids Foundation.
The Winnipeg Jets Goals for Kids Foundation was incorporated in 1987 as the official charity of the Winnipeg Jets Hockey Club. The purpose of the Goals for Kids Foundation was to raise money for children's charities and causes within Manitoba, donating over $300,000 to local children's charities every year. Big Brothers and Big Sisters Associations, Children's Hospitals, Special Olympics, and the Canadian Cancer Society are just a few of the many charities that have benefitted from the fundraising efforts of the Goals for Kids Foundation. In total, over $1.6 million has been disbursed to Manitoba's children.
The Goals for Kids Player Draft relied on local businesses sponsoring Jets players by pledging an amount for each goal that player scores during the season. In addition, individual players sometimes agreed to personally match their sponsor donations. Over $100,000 was donated to the Goals for Kids Foundation each year as a result of the Player Draft.
Following is a list of charities which received funds from the Goals for Kids Foundation. The amounts shown are as of the 1995 season:
| | |
| --- | --- |
| Recipient | Amount Received |
| St. Amant Center | $7,500.00 |
| Alpha House | $5,000.00 |
| Autism Society | $489.07 |
| Aboriginal Youth Conference | $2,500.00 |
| Big Brothers Association | $31,071.75 |
| Big Sisters Association | $5,785.56 |
| B'Nai Brith Youth Organization | $9,126.52 |
| Canadian Cancer Society | $500.00 |
| Canadian Diabetes Association | $2,000.00 |
| Central Speech & Hearing Clinic | $6,000.00 |
| Chai Folk Ensemble | $4,939.23 |
| Child Find Manitoba Inc. | $23,692.92 |
| Children's Festival | $17,250.00 |
| Children's Home of Winnipeg | $5,000.00 |
| Children's Hospital | $33,998.54 |
| Children's Hospital Emergency Unit | $50,000.00 |
| Children's Hospital P.I.C.U. | $250,000.00 |
| Children's Wish Foundation | $1,000.00 |
| Ducks Unlimited | $6,000.00 |
| Fort Whyte Centre | $7,500.00 |
| Foundations for Health | $40,000.00 |
| Green Kids | $722.48 |
| Inter-tribal Child and Family Services | $10,000.00 |
| Jim Kyte Hockey School | $37,500.00 |
| Juvenile Diabetes Research | $37,384.21 |
| Kidney Foundation of Manitoba | $1,200.00 |
| Kids Computer Club | $1,846.85 |
| Knowles Centre Inc. | $5,500.00 |
| MacDonald Youth Res. Centre | $2,600.00 |
| Manitoba Amateur Hockey Association | $28,124.50 |
| Manitoba Children's Museum | $48,600.00 |
| Manitoba Lung Association | $1,000.00 |
| Manitoba Museum of Man and Nature | $33,333.32 |
| Manitoba Pediatric Cancer Treatment Centre | $100,000.00 |
| Manitoba Riding for the Disabled | $1,909.50 |
| Manitoba Ringette Association | $27,019.12 |
| Manitoba Special Olympics | $295,263.27 |
| Manitoba Wheelchair Sport | $4,000.00 |
| Muscular Dystrophy Association | $500.00 |
| Native Women's Transition Centre | $10,000.00 |
| Nijimahkwa Elementary School | $4,463.29 |
| Pinkham School | $1,605.00 |
| Rainbow Society | $1,470.95 |
| READ Canada | $1,121.96 |
| Rossbrook House | $15,568.00 |
| Ronald McDonald House | $636.65 |
| Sign Talk Children's Centre | $10,000.00 |
| St. Boniface Hospital | $45,000.00 |
| Society for Manitobans with Disabilities | $20,263.00 |
| Spina Bifida Association of Manitoba | $674.13 |
| Sport Medicine Council of Manitoba | $1,700.00 |
| Summer Camps | $55,961.00 |
| Summer Day Programs | $13,500.00 |
| Teen Touch Programs | $4,000.00 |
| Telethons | $5,500.00 |
| University Scholarships | $22,884.00 |
| Villa Rosa | $6,000.00 |
| War Amputations Canada | $500.00 |
| W.I.S.H. | $3,950.00 |
| Winnipeg Boys & Girls Clubs | $7,068.97 |
| Winnipeg Harvest (Baby Food) | $15,852.95 |
| Winnipeg Minor Hockey Association | $191,858.11 |
| Winnipeg School Division No. 1 | $20,706.55 |
| Youth Drop-In Centres | $6,743.75 |
| Individual Requests | $2,621.25 |