Ben Hatskin
The following article appeared in a January 1973 edition of the Winnipeg Jets Magazine that details the story of Ben Hatskin, founder of the Jets:
The Man
Ben Hatskin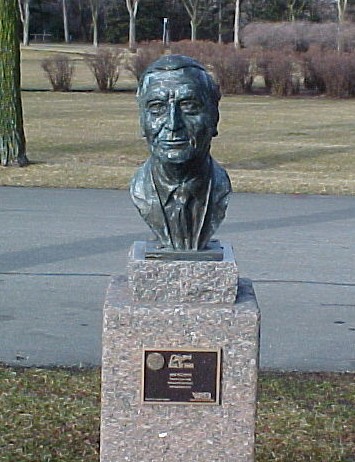 Louis Hatskin's success as a businessman, devotion as a husband, and guidance as a father, are a matter of record. Here was a man, who in 1911, with his wife Annie Cohen, had travelled almost 5,000 miles from Proprask, Russia to Winnipeg. Starting from scratch his wooden box plant business was coming along nicely. There were blessed with two fine sons, Benjamin, born in 1918 and Ruben, six years his junior. The family were beginning to enjoy the good things of life after years of struggle.
The year is 1931. Ben is now 13. His father would prefer that his affinity for sports gave way to culture and the arts. However, no amount of parental persuasion could force him to take lessons on the violin and mandolin. Looking back Ben says "can you imagine a baby hippopotamus playing the fiddle. After all I weighed about 185 pounds on a 5'8" frame." Close friends of Ben's claim he told his father "the music I love to hear is played on a cash register."
About the same time, a cousin, now doctor Joe Ludwig, was taking art lessons. Before he knew what was happening, Ben was enrolled in the class but was preoccupied with the sketching of dollar bills and the more the merrier. Besides, Saturday mornings were hardly the time for art lessons. As captain of his midget soccer squad his presence was required elsewhere.
Tagged "Fats" by his boyhood pals, extra poundage never prevented him from being a "good serious athlete." Still carrying too much weight, "not because he has a big appetite but he's a nibbler," Ben's physical activity is now restricted to an occasional round of golf.
Ben Hatskin's passion for sports, if anything, has grown stronger through the years. In many ways it has set the pattern for his life.
Certainly his grades at Ralph Brown and Aberdeen Schools, and St. Johns Technical High School would not have earned him a scholarship at Oklahoma University. Nevertheless, Ben Hatskin was one of the first Canadians to win a football scholarship south of the border. That was in 1938 after his rookie season with the Winnipeg Blue Bombers. His prowess on the gridiron had been established with YMHA and Deer Lodge Juniors, the latter city champions.
The war cut short his stay at Oklahoma. Upon returning home he suited up again with the Blue and Gold. He centred two Grey Cup champions, 1939 and 1941, in his 6 season tenure with the Bombers. As a high school football coach with Kelvin, one of his players remembers him "as a helluva good one."
The man who negotiated a two and half million dollar contract for a single hockey player himself signed to play a rigorous season of pro football for $100.00. That was 1937, his rookie season. By 1939 his worth had risen to $900.00. Unlike the rest of his teammates who took periodic cash advances throughout that season, Ben decided to take his in one lump sum at the end of the campaign so he could buy a car. Unfortunately the coffers were bare and all GM Joe Pyan could pay him was $280.00. That was one of the few mistakes Ben has made in his lifetime.
Not many greenhorns can get into the horse racing dodge and come out of it better than even.
In 1944 Ben and Les Lear, a boyhood friend and football teammate, formed a stable. Their blue and white colors raced the western circuit for quite a few years. In 1957 Ben went out on his own with Hatskin's Farms. His stable of 15 horses raced on some of the best tracks south of the border.
Master Palynch set a track record in winning the 1959 Louisiana Derby at New Orleans. That rates as the stable's major victory and was worth $50,000 to Ben Hatskin.
The passage of time and some millions of dollars later prove how well Ben planned his own fate.
The Hatskin family sold their plants in Calgary and Winnipeg, and their lumber camps after almost a half century in the wooden box and corrugated paper box business. Ben and brother Rube shifted their interest, business acumen and money into a number of companies: James Realty - Hatskin Containers - Lodge Investments and Triangle Acceptance. In 1966 they bought Universal Music which is the largest juke box distributor in the three prairie provinces. He's been in half a dozen other businesses over the last decade.
Now's as good a time as any to answer the question "what makes Ben Hatskin tick and why is he a success?"
"Ben has a fierce pride. It pushes him to the ultimate, supreme effort in any undertaking. He's protective and a friend forever to those he likes." So says Cecila Rasch a vivacious, cultured woman who has known Ben for 35 years, the last 25 of them intimately as Mrs. Hatskin.
One thing you can bet on. The Winnipeg Jets and hockey won't be the final chapter in the life of Ben Hatskin.
But until he moves on to other ventures Ben "sees this thing as the most exciting and fantastic challenge of my life."
Brother Rube analyzes him this way: "Ben is a soft touch. He'll go a long way with someone he likes. Determination, pride, aggressiveness: they're his main characteristics. Having a summer home, lying around doing nothing, vacations, they're not for him. He has to be active - mentally if not physically, although it was both when he was younger."
Dave Simkin, a longtime friend comments "Ben has big shoulders, he can take it. Criticism, unkind or untrue allegations, roadblocks, disappointments, don't seem to faze him. Or if they do, you'd never know it."
Let's hear now from Big Ben himself. "I talked to Clarence Campbell about getting into the NHL before the second expansion. He called me back and said we'd need a rink seating a guaranteed 16,000 and $7.2 million entry fee. When the idea of a second major league originated I was all for it. I figured it was maybe the only chance our city would ever have to go major league in any sport. The WHA became a reality and its success became more important with each passing day. After all we got in deeper and deeper and besides we had something to prove to the disbelievers who were by far in the majority."
About Bobby Hull, the Superstar with the Chicago Black Hawks. "I felt we'd get a good percentage of NHL players. But getting a superstar like Hull would mean instant-league in the minds of the public and the news media. Also it would cause other players to take the WHA seriously. There are only 3 or 4 superstars in hockey. All but Hull were tied up. He was our trump card. We went after him and we got him."
It wasn't that simple and there undoubtedly are pitfalls ahead. Jets executive manager Terry Hind says "Ben can take on a number of problems covering a wide range of matters, without making a production out of it, he also has good memory. Ben doesn't cultivate people - no phony airs, no showing off, and he's not a backpatter or glad-hander. You take him as he is. I wish people could know him for the good guy he is."
It's time now for the hockey chapter. Ben's love for hockey goes back to the 1930's when he was a pretty good defenseman in juvenile and junior brackets. But Hatskin's name first came into real prominence on the local hockey scene 6 years ago, when he entered the Western Canada Junior Hockey League with the team now known as the Winnipeg Jets. Despite a feud with the CAHA the league flourished and Ben ended up bankrolling at least three other franchises under the table to put it on its feet. Today the W.C.H.L. is a thriving 12 team operation.
Playing godfather to an entire league is ironically similar to what he's doing now.
"Ben Hatskin has been the strong man in our embryonic stages and much of the progress of our league can be credited to him." That tribute comes from World Hockey Association President Gary Davidson.