The 1979 Entry Draft
One defining blunder, but one of the best drafts the Jets ever had
After capturing the AVCO Cup in the WHA's final season, the Jets prepared to embark on a new journey in a new league. And one of their first acts as members of the NHL was to participate in the Entry Draft, previously known as the Amateur Draft, where the rights to junior players were parceled out. The Jets, along with the other three incoming WHA teams, were slotted at the bottom, behind the existing 17 teams.
Despite their position, however, there was plenty of talent for the taking. In fact, it would be prove to be one of the deepest drafts of all time. By the time the Jets' turn came in the first round, future Hall of Famers and All-Stars were still on the board. Michel Goulet. Kevin Lowe. Pelle Lindbergh. Mats Naslund. Neal Broten. Mark Messier.
General manager John Ferguson had someone else in mind, however. A young man out of Sherbrooke who he hoped would develop into a good corner man.
Jimmy Mann.
Decades later, the name still brings groans from the faithful.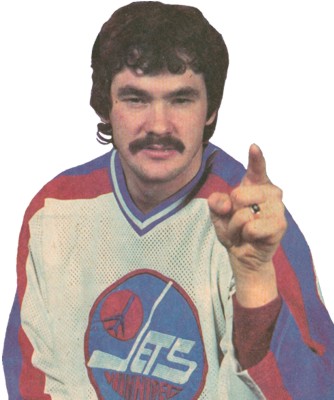 "I just want to play hockey."
Mann certainly would develop into a good corner man. The corner of the penalty box. Though a great teammate, Mann would do little for the Jets but fight. The first of many egregious first-round blunders for Ferguson, Mann would pile up 895 penalty minutes over the course of his 293-game NHL career.
Yet despite such an obvious swing and miss, this draft was not over, not by a long shot for the Jets.
In the second round, the Jets grabbed Dave Christian out of UND. He would become a future captain and went on to a long and successful NHL career after leaving the Jets due to a contract dispute. In the fifth round, the Jets took Swedish centerman Thomas Steen. No one would spend more time in a Jets uniform than the player affectionately called "The Swedish Goon" and his number 25 would be one of only two the Jets would retire. Finally, the sixth round brought defenseman Tim Watters to the Jets. Though never spectacular, Watters would become a valuable blueliner for years to come.
When it was all said and done, the draft defined by such a big mistake ended up as one of Ferguson's best.