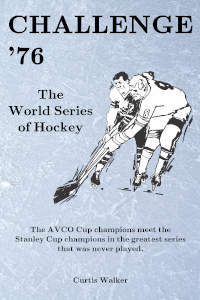 Between 1972 and 1979, pro hockey's two major leagues, the National Hockey League and the upstart World Hockey Association, fought each other tooth and nail. Their lawyers argued bitterly in courtrooms, and their teams waged desperate battles to sign the best players.

Following the settlement of the WHA's antitrust suit against the NHL, the two leagues began facing each other on the ice in exhibition play. The WHA teams fared well, winning more than half of the 73 games played. Indeed, the new league iced many quality teams, which were on par with the best the NHL had to offer. But sadly, the champions of the two leagues would never meet to decide a true world championship.

In Challenge '76: The World Series of Hockey, hockey historian Curtis Walker explores what may have happened had the WHA's Winnipeg Jets met the NHL's Montreal Canadiens in 1976 for all the marbles. The Jets were fresh off their first AVCO Cup championship. Two more would follow over the next three years. The Canadiens, meanwhile, had just won the first of what would be four consecutive Stanley Cups.

This matchup between budding dynasties of rival leagues could have been the greatest series that was never played.

For the paperback edition, click here (Canadian buyers please use this link).

For the e-book, click here (Canadian buyers please use this link).